Transponder Key Services
Wondering what exactly a transponder key is and why it costs so much money to have it duplicated? We have all the answers you're looking for.
Our transponder key services include: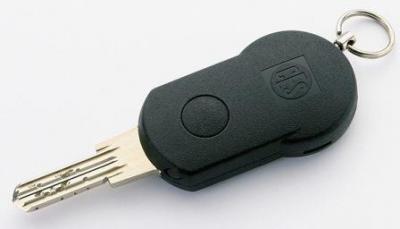 Transponder key reprogramming
Transponder key duplication
Transponder key repair
Is My Key a Transponder?
Many people don't even know that they have a transponder key until they want to have their key replaced or duplicated. You may not have known that most cars on the road today come with a transponder key, but once you are aware of the security benefits that they provide, you will better understand why locksmith prices are higher when replace them than with replacing other keys.
You can tell if your key is a transponder if there is a thick piece of plastic attached to the top part of your key, as it usually means there is a small transponder chip inside of it.
Understanding Transponders
Transponder keys look very similar to other car keys. Because transponder keys don't stand out in any obvious way, it's easy to overlook the complicated technology that makes these keys such a positive security measure. Fascinatingly, transponder keys don't need battery power in order to run, which means that they will never run out of power and stop functioning as a result of a dead battery.
There are two types of transponder keys:
A zero bitten transponder key, which can be copied by a professional car locksmith if need be.
An encrypted key which cannot be duplicated and instead a new key must instead be programmed by a competent auto locksmith technician.
There is a very small electronic chip inside each transponder key. Each of these chips has a specific set of numbers on it that is preinstalled on the chip when manufactured. The magic of the chip starts happening when the chip is brought into close contact with a matching receiver. The receiver, which is located inside a car's ignition senses when the set of numbers between itself and the transponder chip is a match. If the number code on both the transponder key and the receiver are a perfect match, the car's ignition will automatically unlock itself. The car won't be able to start unless the transponder is in close range of the car's receiver.
The History of the Transponder Key
Transponder technology was initially developed for military planes in the Second World War to be able to "communicate" with each other by sending matching signals to all the allied planes that let pilots know when not to attack friendly planes. The transponder technology sent signals between planes that were on the same side of the war, thereby distinguishing them from enemy planes. After the war was over, this technology of transmitters and responders was put to many uses.
Now, transponder technology is used in things like space satellites, phone signals, and even garage doors.
Transponder Key Tip
Since the transponder chip only needs to be in close range of the car's ignition and not inside the actual key hole, you can avoid duplicating your key by taping a transponder key to the under part of your steering wheel. By doing so, you only need to duplicate the metal part of your car key, which is very inexpensive to do, and you'll be able to save yourself money.
For all your transponder key locksmith needs, Nationwide locksmiths are here for you!